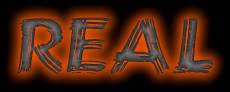 You have probably seen UFO and alien movies like Men In Black, Independence Day, and Fire in the Sky. Are these movies just the creation of the imaginations of movie-makers? The answer to that question is: not really. The people who wrote these movies did a lot of reading about REAL aliens!
As you read this e-book, you will discover that Fire in the Sky is the story of a man who says that he was really taken away by aliens in a UFO! You will also learn about the REAL Men In Black (MIBs) and what they are trying to do here on Earth.
* * *

"Fire in the Sky" aliens.
©1982, Atlan Productions.
* * *
As you will remember, the movie Independence Day was about the people of Earth trying to keep their freedom. They didn't want to be taken over in an alien invasion. But did you know that a REAL alien event ocurred on Independence Day (July 4) in 1947? This was when the people of the United States first learned of a flying saucer crashing in the desert in Roswell, New Mexico! Witnesses to the crashed UFO saw little aliens lying on the ground near the wreckage. One of the aliens was still alive! This is the second event which is said to have started what is called the Modern Era (modern time) of UFOs.
* * *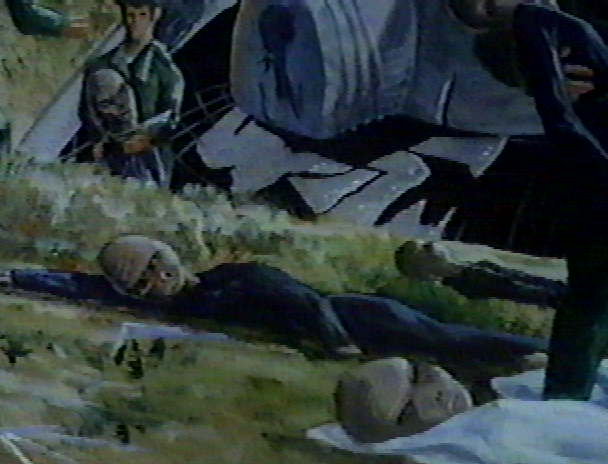 Aliens bodies at the Roswell crash site.
©1982, Atlan Productions.
* * *
The very first event that is said to have started the Modern Era of UFOs is the sighting of nine UFOs flying in formation in the state of Washington near Mt. Ranier. They were sighted by a business man named Kenneth Arnold. This was back in June of 1947, when UFOs were first described as flying saucers. But the Modern Era was not the first time that UFOs began to be talked about, and the United States isn't the only country where they can be seen. UFOs have been sighted all over the world for many hundreds of years.
* * *

An "airship" UFO sighted in 1897.
©1982, Atlan Productions.
* * *
When ancient peoples sighted them zipping through the skies above them, they called the UFOs "fire circles" and "flying shields" because this is what they reminded them of. These ancient tribes wrote of their contact with the "Bird Men" (aliens) and how they came down from the heavens (outer space) in their shiny, flaming "egg" (UFO).
* * *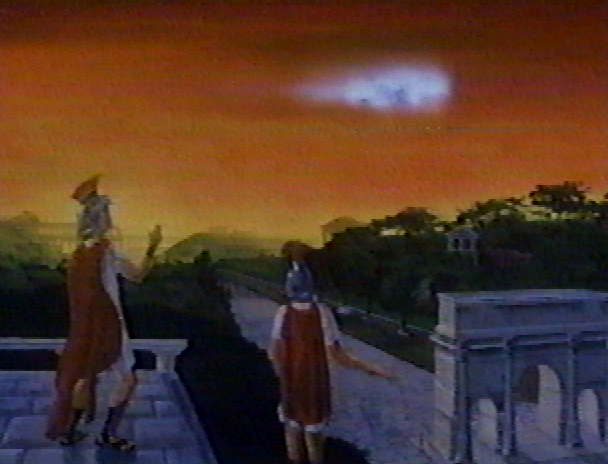 Ancients viewing a "fireshield" UFO.
©1982, Atlan Productions.
* * *
According to some ancient people, the aliens did appear to be bird-like in appearance, with beaks and feathers. But these aliens also had two arms and two legs like humans! The physical appearance of the aliens seems to vary greatly. Throughout history, the different kinds of aliens have been described as being short, tall, fat, thin; hairy, bald, scaled, feathered; blue, red, purple, green, gray, silver, gold; good, and evil! In more descriptive terms, the aliens have been characterized as resembling hairy little monkeys, hairy giants, little green elves, and giant green monsters!
* * *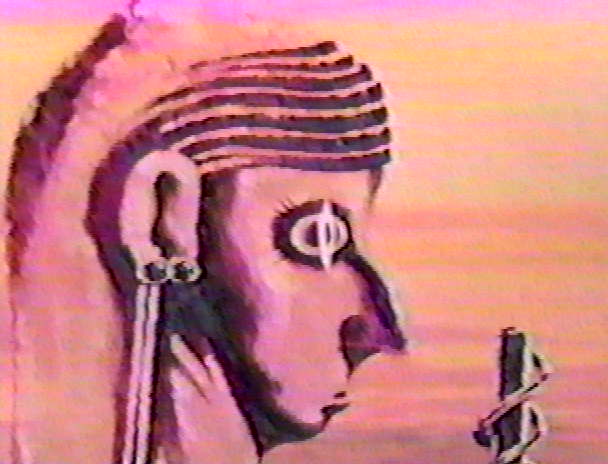 Ancient Egyptian-type alien.
©1974, Celso Barroso.
* * *
Today, we are still living in what is known as the Modern Era of UFOs. There has been an increase in UFO activity all over the world since 1966! It is very likely that you have seen a UFO. If you haven't yet, chances are you will see one sometime in your life!
* * *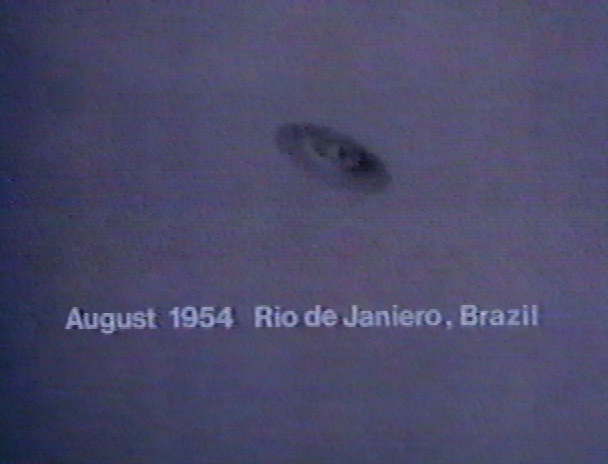 A REAL photo of a shield-shaped UFO.
©1993, Group 1 Services, Ltd.
* * *
If you want to know more about these REAL ALIENS and the UFOs they fly, then read on. You will learn more about what the aliens look like, and what they have done while on Earth. You will also learn how, where, and when to look for UFOs and aliens, and what to do if you see the MIBs (Men In Black)! So, if you want to see a UFO or a real alien, this e-book will tell you how to do it!


Click to read